ABOUT VIC NOBLE
After graduating from Simon Fraser University with a Bachelor of Arts degree in Commerce, Vic became vice-president of a family run sawmill in Vancouver that employed 200 people.

In 1988 the sawmill was sold and he then became the chief pilot and operations manager of a helicopter charter operation, which he ran until the later 1990's, after which he devoted full time to trading.
Up until the early fall of 2005 he was employed by a large futures brokerage house in Vancouver, and has since left that job to concentrate exclusively on trading foreign exchange for his own account, and most importantly to help others find success in trading.
Vic has always maintained a passion for trading and as a result of his years in the brokerage business was able to gain unique insights into the habits of both successful and unsuccessful traders. It was the unsuccessful traders that really challenged Vic to want to make a difference, and so to that end he has now embarked upon a strategic relationship with Forexmentor.com with the sole purpose of helping people develop successful trading habits.
Comments from Vic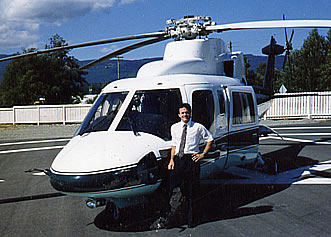 "In the above picture you see me standing beside an aircraft that I was lucky enough to fly, a Sikorsky S76 helicopter. You may not realize it but there are some very definite similarities between trading and piloting an aircraft. Specifically, just as you must go through a pre-flight checklist for flying, you need to have a check list for trading before you ever leave the ground (make a trade), and you must know your destination (exit point) as well as how to handle emergency procedures (a stop loss). And then there's the actual "in-flight" information that is crucial—trade management. Chances are that if you keep crashing and burning then your checklist is flawed (or non-existent). And you should definitely not be piloting an aircraft!
I have found that there is a tremendous consistency in both winning and losing traders in how they handle their checklists! If you are confused about your checklist or, worse yet, you don't really even have one, then maybe you should consider participating in our personal mentoring session program.
The Forexmentor team that Peter Bain has assembled is extremely impressive, and I am very honored to be a part of it. Having met the entire team I can tell you that you have become involved with an extremely hard working, honest and dedicated team that works very hard to help traders achieve success. We are all very fortunate to have someone like Peter who is so totally passionate about seeing people reach their trading goals."
Vic operates the twice-weekly live training and follow-up service called the Coach's Corner and the Recurring Forex Pattern Daily Review service. » Read more about Vic Noble.
UNSOLICITED TESTIMONIALS FOR VIC NOBLE
"Dear Vic..You may not know this but you are one of the best coaches out inthe market. I really appreciate your honesty and integrity. I am a big fan of you (and Shirley), Regards." - Noel D.
"Thank you….thank you ….thank you so much for your excellent trading course and past guidance you gave me. I purchased your course this past weekend and went thru it to refresh my previous lessons from you. Well this morning I pulled 83 pips out of 3 pairs and felt very comfortable doing it. You're amazing Vic and I have to say out of all mentors I have had (trust me I can count at least 10 or more) and spent tons of moola, your simply the best around. Your system is consistent, profitable and easy to follow. I have used it in the past but not a whole heck of a lot because I work full time and I wasn't clear on a couple of things. I traded today because I have Mondays off but with some new insight from your course and a new found confidence I will keep you posted on my future progress. Thanks again Vic and take care." - Bob Meinecke, Sun City West, AZ
"Hi Vic, This is Ted again. As you know I took your coach's training course, scalping course, and now the new one, "Winning Strategies for the Forex Trader". This course really put everything together so nicely for me. In our interview a few weeks ago, I mentioned that my highest profit for an evening was $790.00. Well, Vic, hope your sitting down cause I just made $1074.00 tonight with four scalps. The Aus/Jpy was on a tear. I just kept going from one range of support/resistance, taking a profit, and then moving on to the next range. This was all during the London session and took just under 3 hours. Your latest course helped as I applied the concept of overlapping fibs, which worked like magic. Quite incredible, I must say. What can I say but thanks again for being there for us amateurs. Feel free to use this as a testimonial. I want others to know the value of your expertise, Vic, so they can do well also. " -Ted H.
"Hi Vic, I knew immediately after our first coaching session that I would come back for more at the right time, that is, after I had worked on my inner demons and had more time and money. You created and introduced a new course based on your core concepts during this time just when I was ready to move to the next step. I have been incredibly fortunate to have come in touch with you for the training session and your new course. It has been an amazing experience after all those years of dedication to learning and trying to make the pieces come together. You have solidified this for me. I can only describe your new course as a masterpiece for new, advanced and struggling traders. It is so well organized, clear and comprehensive in integrating the foundation and key concepts on which trading is based. It also provides a simple, realistic and practical approach to trading the forex market. This course is the best quality and value of all the training and courses that I have taken over the years. The only regret is that this course was unavailable in the past. On the other hand, it has allowed me to better appreciate the quality of this course and recognize the commitment that you have made to make all of us better and successful traders. Congratulations and I wish you the best in all your endeavors. Best regards" -Norman L.
"Vic, Ordered your second course this past weekend. EXCELLENT MATERIAL. Glad I bought the CDs as reference. Where were your three years ago when I started in this FX business?? :):) Seriously, though, you should have come out with this course before the Scalping course, but I'm happy to have both. Enjoy your vacation in August and I'll "see" you in September. Regards" -Karl Z.
"Hi Vic, What a genuis you are. I ordered your course (coach's guide)on 1st Aug 07.Applied your methodology on the Dow Jones On 2nd Aug 07. Guess what,I made 60 points profit, proof that your methodology works in all markets. Keep up the good work and God's blessing. Greetings to Peter and the entire forexmentor team." -Dele Alabi
"Hi Vic, What a great course. You really put a lot of work into preparing and producing it. I couldn't be happier. You have a knack for explaining the material (as you do in the Scalping Course) without making it confusing and are very thorough. There are points brought out that I had forgotten.. For example, I always add the pip spread to my order when buying but had forgotten to add the spread to the stop when selling, even-though I new the purpose of the stop was to buy, to close out the sell order. It had never sunk in. The examples you chose for the presentation are great. Again I couldn't be happier with the structure and material content of the course." -Mike Guile