Having Trouble Finding Time To Trade The Forex?
Looking For a Set-and-Forget Strategy?
Want To Master A Straightforward, Proven, Price Action-Based System?
Like many of you, Darko has a very busy life and he doesn't want to be glued to his trading station all day long! So he set out to create more of a set-and-forget way of trading the Forex...for himself. This was the impetus behind ACAT.
He was looking for an approach that used the same basic principles of support and resistance and price action reading that has been taught in the Coach's Corner service since 2006 (and that he has greatly improved upon). But he wanted something that he could see quickly and easily just by glancing at a chart for seconds, and required minimal babysitting. Tall order? Well…
In 2018, Darko started developing the pieces of the system we now call ACAT. This took many, many hours of working in the back-ground, back-testing, live testing and refining the trading rules.
Darko's original thought was simply to develop this for himself, to satisfy his own situation and lifestyle. But something happened that he had not expected: His early results were extremely encouraging, and his excitement led him to do further testing to see how it performed over a much longer period of time, and under different market conditions.
After months and months of testing, it became apparent that not only were his initial promising results no fluke, but that he was on to something significant. Something that would not only benefit him, but would be an extremely good trading approach to share with our Coach's Corner members. (If you didn't already know, the end-game with EVERYTHING that Darko does is to help our CC members).
It was a no-brainer decision to share the ACAT approach with the CC members. When you look at the benefits listed below, you'll see why.
So…in June of 2019, he let the "ACAT out of the bag" so to speak! The CC members were introduced to ACAT trading with great anticipation, and within a very short period of time, they fell in love with the power and simplicity of the system.
The CC members were advised to NOT trade ACAT in their live accounts, as Darko felt it still needed more live testing and verification. He didn't want to release it until he was truly confident that it had been perfected and ready to go. This meant more testing, but more importantly, our CC members themselves were involved in the testing process.
And here are the results as of this writing:
TRADING RECORD BASED ON PMA
Below you will find the trading record based on the Premarket Analysis (PMA) videos from Coach's Corner: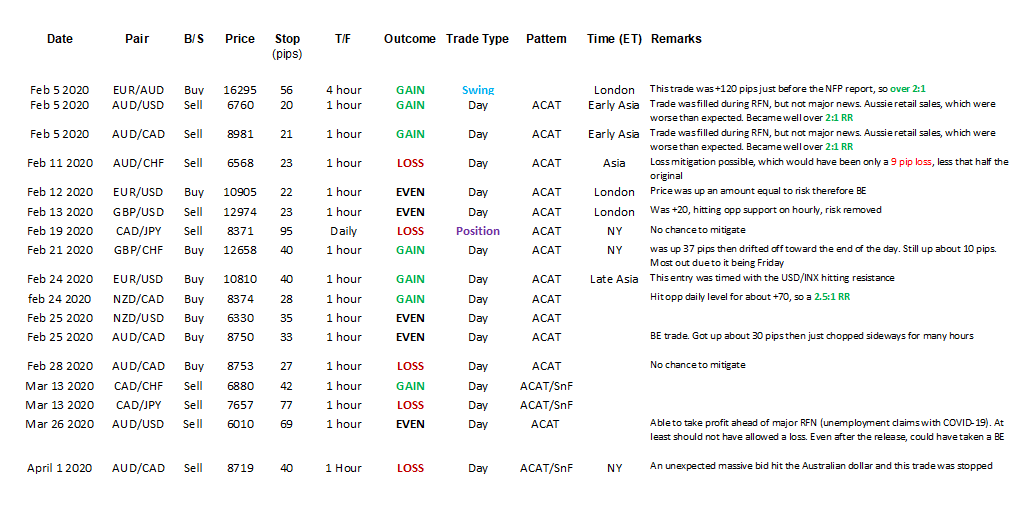 I think you will agree that the accuracy and the large moves captured by ACAT are impressive!
Testimonials
Here are just some of the testimonials from our CC members on ACAT...
Hi Vic, Just a quick note about ACAT . I could go into a long glowing testimonial about ACAT and CC but anyone that knows me knows I am a little moredirect . Simply put I struggled over 10 yrs with trading and CC and now ACAT saved my bacon !! Bottom line ..follow the rules , do your homework , and this system works ..any timeframe , any pair . I know I join many others in saying a heartfelt thankyou to Vic and Darko for their dedication and hardwork...not to be found anywhere else. Regards, - Dan Kramer
Darko's ACAT system is the most powerful pure price action trading system I've used. It is taking my trading to an even higher level since joining Coach's Corner 15 months ago. So far this week, ACAT has helped me net over 220 pips profit! I'm so grateful to Darko & Vic for giving us the opportunity to become professional traders. - Conroy Jones
Vic, It has been at least 3 years since I joined CC, probably more. So many times I have said it can't get any better, yet it does. First and foremost is the genuine caring. We truly are family and, as in a family, you and now Darko, cheer when we succeed and politely yet firmly correct when we make mistakes. Second, I believe we have reached the point where our trading cannot get any better. The Advanced Candle Action Trading system, developed over a long period of time by Darko, is as objective and powerful a trading system as anyone could want. Precise and understandable rules, coupled with an excellent money management system. I am not certain how many members we now have but I know from the daily exchanges in the Skypelounge that I could publish this e-mail in the lounge and not get a single negative response to it. Being a part of this family is a personal joy and is also professionally rewarding. Thank you Vic, and thank you Darko, for everything you do for us. - Bob
While there is no such thing as a holy grail in trading. The ACAT is as close as it gets. I like ACAT because its based on pure price action . We do not have to analyse indicators that are lagging and interpret the indicators. Furthermore, unlike traditional patterns these occur quite frequently in the market. As this strategy is based on candle action there is a higher probability to be in trades that capture the big moves in the market. I used to be a pattern trader. Now I only trade ACAT as I find it easy to pickup and provides better Risk:Reward long term as this strategy is based on S/R and price action. These concepts are not going to change in 10 years time. So I highly recommend the ACAT to anyone that wants to take their trading to the next level. Regards, - Shehan
I have found ACAT to be a simple but effective strategy to trade the forex markets, and I have also used it in other markets (stocks and indices). You don't need to be glued to your computer all day, and the win rate has been most acceptable. Leo All the best, - Leo
I'm a CC member since January 2015 with some breaks. I've recently rejoined CC and that was the best decision and the best moment because Darko presented his ACAT approach. I love ACAT because of it's simplicity and straight forward approach. Now I know that by the end of 2019 I will be a profesional forex trader thanks to Darko Ali and Vic Noble. - Daniel R., Poland
ACAT IN A NUTSHELL
By now, you are probably wondering what is this ACAT thing all about?. Let us summarize it for you...
Pure price action trading. No indicators.
A simple strategy to implement using established support resistance and candle formations.
It is an "end-of-period" strategy, depending on your trading style. (Monthly, Weekly, Daily, 4Hour)
Reduces the need to babysit trades.
WHAT CAN ACAT DO FOR YOU...
Here's how you can benefit from ACAT...
ACAT does not use any indicators.
ACAT is pure price action based trading.
ACAT is actually a very simple concept to apply.
ACAT does not require that you babysit trades if you have a day job. Can be managed with a smartphone.
ACAT allows you to quickly identify trade setups (very visual).
ACAT is easy for beginning traders to learn.
ACAT uses the same core basics that have always been taught in the CC service.
ACAT can be learned quite quickly (depending on experience level), in may cases within a few weeks.
HOW TO LEARN ACAT?
We held a special training webinar event on August 27th 2019. In this webinar, Darko covered the entire system in great detail, nothing left out.
This is one of those training events that will literally change the way you view the market, no matter how you currently trade.
BONUS 1
The full recording of the webinar will be made available to all active CC members. NOTE: Current CC members who have had an active CC membership for at least 2 months will be entitled to life-time access to the full recording. Members who join for 1 month only and wish to leave may purchase the full recording for a discounted price of $97.
BONUS 2
Reticular Activating System And Trading (RAS): Darko's complete webinar recording of this fundamentally important concept to understand when it comes to trading…what you pay attention to and why, and how to build your "historical perspective" for trading.
BONUS 3
The Four Stages of Trading: There are 4 distinct stages in trader development. Where are you right now? In this video, you'll find out, and this is extremely important in terms of recognizing errors and correcting your path as you move toward consistent profitability.
Advanced Candle Action Trading
A.C.A.T.
GET THE FULL RECORDING NOW!
Get Free Access If You Are An Active CC or CC Premium Member. (Best Deal)
JOIN CC NOW or CC MEMBER LOGIN
Non-CC members pay a one-time fee to get life-time access to the full recording and follow-up video resources. Due to the nature of digital products, all sales are final and there are no refunds.

REMEMBER
With ACAT there are no patterns to look for – only pure price action. ACAT simply gives us more opportunities when we don't have a pattern. We hope to see you at the event!
Credit Cards or Paypal
Pay with major credit cards or with your Paypal account. All prices in US Dollars.
Secure Ordering
We take your security and privacy seriously. Rest assured that we do not share your information with any outside parties.